Recherche
Andrés León Rodríguez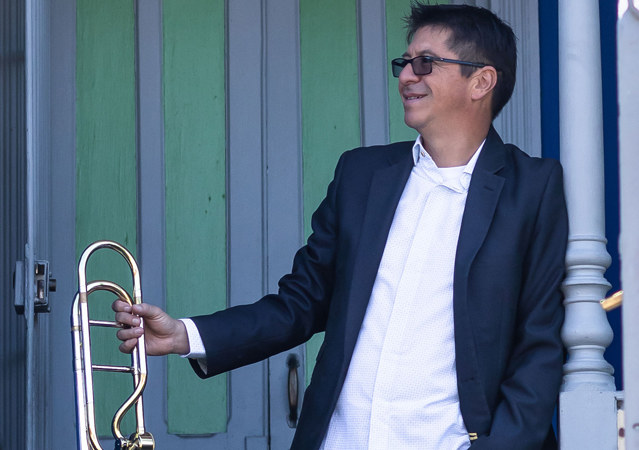 Trombone professor and international soloist
He began his studies at the Barva School of Music, then went to the National Institute of Music where he obtained his degree with an emphasis on trombone. He holds a Master's degree at Boston University, Massachusetts, USA, under the tutelage of Professor Don Lucas. He was part of the Costa Ricans who were grouped in Editus Assembly and from 1999 to 2006 he accompanied the international artist Rubén Blades.
With this noted artist he toured Europe, the United States, South America, Central America and the Caribbean, and also recorded the album « Mundo » that won the Grammy and Latin Grammy Award.
Among some Festivals he participated in: Montreux Jazz Festival in Switzerland, Playboy Jazz Festival in Los Angeles, La Villete in Paris, Festival Ravinia in Chicago, Caracas Pop Fest, Venezuela, Tollwood in Múnich, Pirineos Fest in Huesca, España, and has played in venues such as the National Auditorium of Mexico, the Concertgebouw in Amsterdam, and at Carnegie Hall in New York City.
For more than 10 years he was part of the Costa Rican Philharmonic Orchestra.
As Deputy Director of the Heredia Concert Band he performed and was aware of the administrative functions as well as the artistic coordination of the Heredia Concert Band, in montages of shows with national and foreign soloists. He coordinated both at the ministerial level, as well as with the municipalities, associations, halls, theatres, churches and the different living forces of the communities.
As Music Director of the Barva Symphony Band, he carries out the logistics so that two cultural journeys are realized with the 35 members of the group, one to Leipzig, Germany and the other to Querétaro, Mexico.
In his entrepreneurial role in 2017 they open the doors of the Costa Rican Academy of Bronze, academy aimed at providing the necessary support for Bronze instrumentalists can find a space for growth and learning.
He leads and coordinates the Costa Rica Trombone Festival, which was attended by the professor of trombon of the Paris Conservatory. This Festival seeks to create internal and external knowledge bridges that contribute to the growth and exchange in pedagogical and execution of trombon.
Trombone Teacher at the Castella Conservatory, Member of Son of Tikizia, directed by Walter Flores. Tutor professor of trombone at the National University. Active Trombonist in both national and international workshops in seminars and private classes. Guest musician for shows and studio recordings.
Instruments
Legend 420

Retour en Haut