Recherche
Alejandro Parra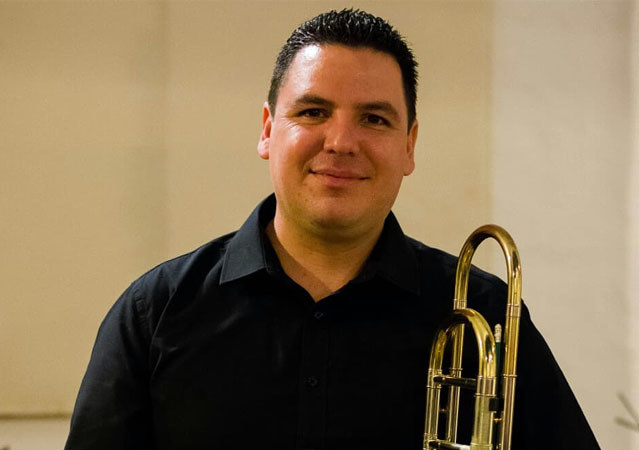 Professor of Trombone & Trombonist in BonAires Brass Quintet
Venezuelan Trombonist currently based in Buenos Aires Argentina, trained in the System of Orchestras and Choirs of Venezuela in the Trombone by the Masters Carlos Isturiz, Domingo Pagliuca, Oscar Vivenes. He was Trombón Principal of the Lara State Symphony Orchestra, Eufonio in the Metal Assemblies of the Province, Professor of the Vicente Emilio Sojo Conservatory, Yaracuy Conservatory, Central Western University Lisandro Alvarado, Director and Professor of the Trombone School of El Sistema in Lara . Itinerant Professor and Director of Fundamusical Simón Bolívar.
He has performed as a Soloist with different Orchestras of the Province in Venezuela, participated as a Soloist in the Winter Festival of Campos Do Jordao in Brazil, in this same he obtained a full scholarship to Participate in the Master Class of Trombone and Orchestral Direction, Soloist in the Festival Trombonanza 2018 Santa Fé Argentina, participated in Tours and Concerts Under the Direction of Gustavo Dudamel, Tarcisio Barreto, Claudio Abado, Simon Rattle, Diego Matheuz, Christian Vázquez, Alfredo Rugeles, Mario Benzecry, Ignacio Calderón, Cesar Iván Lara, Roberto Minsuk, Ligia Amado, Rodolfo Saglimbeni, Enrique Arturo Diemecke. I participate in the premiere of the Opera « A Flowering Tree » in Vienna Austria.
He has received classes with Masters: Gaspar Licciardone, Michel Bequet, Christian Lindberg, Ian Bousfield, Achilles Liarmakopoulos, Olaff Ott, Enrique Crespo, Ralph Sauer, Bruno Flahu, Miguel Sánchez, Jorgen Van Rijen, Ben Van Dijk, Jacques Mauger, Pedro Carrero , Angel Sánchez, Obeed Rodríguez, Giovani Scarpetta, Bret Baker, David Rejano.
Currently in Argentina Director of Latinoamerica Low Brass, trombonist in BonAires Brass Quintet, Director and Professor in the Youth and Children's Orchestras Program of the Province of Buenos Aires. Trombonist hired at the Opera House of the Teatro Colón under the Direction of Ulises Marino, Marcelo Ayub and Ezequiel Silberstein, Extra Trombone with the Stable Orchestra of the same Theater, Trombonist of the Posaunenchor Temperley under the Direction of the Trombonist Heini Schenebeli, Trombone with Avellaneda Big Band. He participated as a Trombonist and guest conductor with the Latin Vox Machine Orchestra, premiering a fanfare committed to Venezuelan migration in Argentina, He has given Master Class Trombone in the Ministry of Education of Argentina, conferences and training for the best performance in the wind instruments.
Instruments
Legend 420

Retour en Haut