Search
Vincenzo PARATORE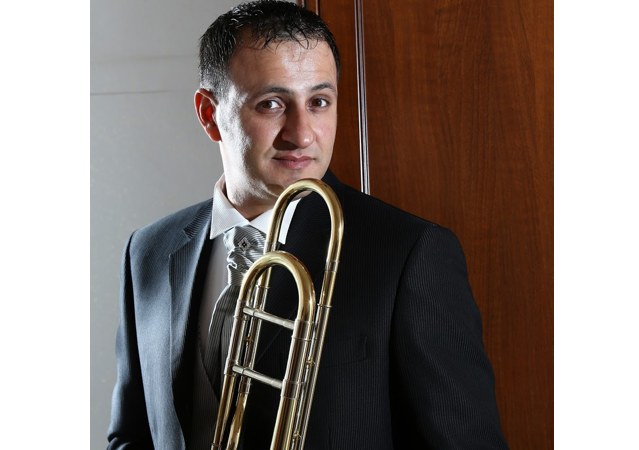 Primo Trombone at Teatro Massimo "Vincenzo Bellini"
Graduated with honours in trombone in 1998 at Vincenzo Bellini Musical Institute of Catania under the guide of M° Camillo Pavone. He continued his studies at the Advanced Conservatory of Paris(2002) and then at Saint Cecilia Academy inRome(2003) under the guide of M°J.Mauger.
He has won several national and international competitions, such as  the 2nd International Competition of Music for Young Interpreters "City of Chieri", where he played accompanied by the Turin Royal Theatre Orchestra.
He has won the 18th International Trombone Competition "City of Porcia"(2007) and the 5th International Trombone Competition of Jeju 2008(South Korea). He has won several auditions for trombone.
He has performed in Italy and in foreign countries as trombone soloist and as part of various formation. He is part of the Sicilian Brass Quintet, with whom he has recorded two discs and the Sciara Quartet, formation that has won several national competitions. He has recorded a concert as trombone soloist in the disc "A bridge to Brasil".
Since 2003 he has covered the role of first trombone in the Orchestra of the Theatre Maximum "V.Bellini" of Catania. To the intense concert activity he places side by side the didactic activity: he is in fact teacher of the course of specialization for trombone at the "V.Bellini" Institute ofCaltanissetta,and held numerous master classes in Italy, Switzerland, France, Mexico, Hungary, Korea, Spain, Colombia, etc…
He collaborate as principal Trombone with   "Teatro alla Scala" of Milan and Accademia Nazionale di Santa Cecilia Orchestra in Rome .  
Instruments
Legend 420

Retour en Haut