Search
Marcia MEDRANO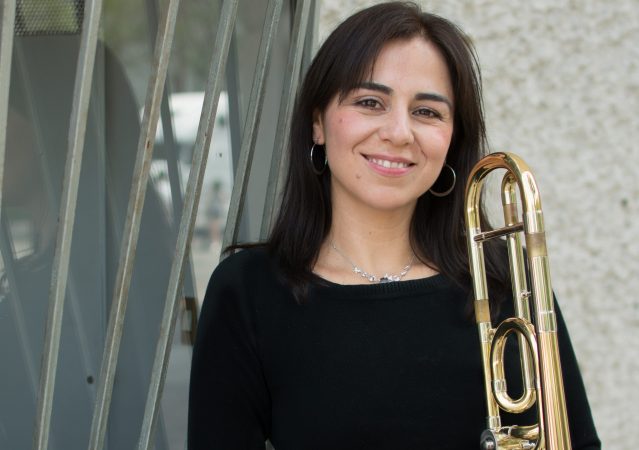 Professor of Trombone, Universidad Autonoma de Mexico / Trombonist at Orquesta de Camara de la Escuela Nacional Preparatoria
One of the most active and outstanding trombone player of her generation, she concluded her bachelor degree's studies with a honorific mention at the Escuela Nacional de Música de la UNAM in the year 2000 under the tutelage of Gustavo Rosales. Later she obtained The Fullbright Garcia-Robles and FONCA scholarships to get her master's degree at Rutgers University in New Jersey, USA with trombonist Michael Powell of the American Brass Quintet.
In addition to her academic formation, Marcia Medrano took classes with exceptional teachers in Mexico, USA and Europe: Alain Trudel, Joe Alessi, Christian Lindberg, Jeff Reynolds, Ralph Sauer, John Faieta, Laurie Frink, Enrique Crespo, Jonas Bylund, Ximo Vicedo, Fabrice Millischer, Vincenzo Paratore and she also frequently attends to Jacques Mauger lectures in France.
Marcia Medrano has participated with major symphony orchestras among which stand out "Symphony of Minería, Symphony of Xalapa, Orchestra of Fine Arts Theater, Philharmonic of Jalisco, Symphonic Orchestra of the UANL, and others.
She has also participated in different courses and festivals like the Banff Center in Canada, the FIMU and Rencontres Musicales in France, the Atlantic Brass Quintet Seminar in New York, Spanish Brass Festival in Valencia, Spain, International Cervantino Festival and Instrumenta Verano Oaxaca in Mexico.
Since 2010 Marcia Medrano along with Faustino Díaz, is organizing and being the academic coordinator of the most important trombone festival in Mexico: La Semana Nacional de Trombón where more than 60 students participate each edition and outstanding international soloists have played, like Jacques Mauger, Denson Paul Pollard and David García, among others. She has also collaborated in organizing several brass festivals within the Facultad de Música de la UNAM and she has also worked in organizing the Festival Instrumenta Oaxaca 2013.
Marcia Medrano is now part of several ensembles in Mexico City of classical, contemporary, antique music and jazz among others. Stand out several of her participations with Grammy Award-winners like: Natalia Lafourcade and Lila Downs with whom she plays frequently.
She has been academic at the Conservatorio de las Rosas, Universidad Michoacana de San Nicolás de Hidalgo, Chihuahua Conservatory and Guadalajara University. She is currently trombone player of the Orquesta de Cámara of the ENP and teacher of trombone at the Facultad de Música, both at the UNAM.
Instruments
Legend 440

Retour en Haut