Search
Ivan Bošnjak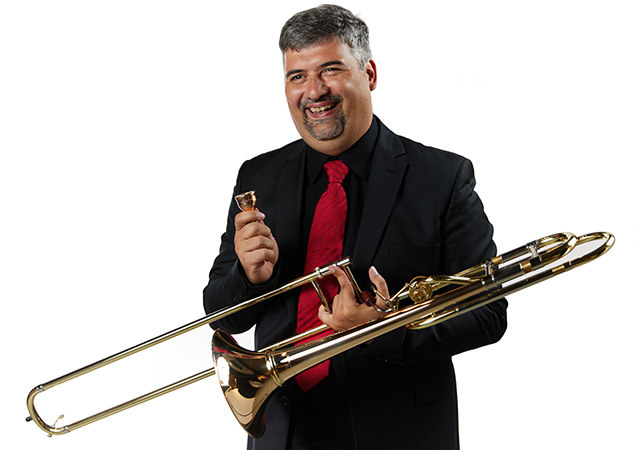 Vice-president of the board of the Croatian Association of Orchestral and Chamber Musicians
Ivan Bošnjak was born in Osijek, Croatia in 1981. He took his first lessons in trombone with his father and then continued his education in the Music School in Šibenik, in the class of prof. Mihajlo Bošnjak where he graduated in 2000. During that time, he won the first prize at the 38 th National competition of students of music and dance in Rijeka. In 2000 he enrolled at the Music academy "Ino Mirkovich" in Lovran where he studied in the class of Branimir Slokar and Uroš Polanc. During his studies he won the first prize at the International music competition held in Alice bel Colle in 2002 in Italy.
While still attending his final year of studies he won the audition for the position of Principal trombone at the Croatian National Theatre Orchestra in Zagreb in 2003. He graduated at the Music academy of the University in Zagreb in 2005. Beside the position of Principal Trombone, Ivan is an active soloist and chamber musician with the Busina Brass Quintet with which he has performed over 100 concerts in the last 15 years and visited Japan, Turkey, Germany, Georgia, Israel, Slovenia, Italy, Greece, Romania, Bulgaria, Poland, Albania, and many other countries. He appeared as soloist with orchestra and gave master classes for trombone and low brass on several occasions in Japan in 2010, 2012 and 2016 with Tokai Sagami High School Wind Orchestra and Tsuruoka Higashii Wind Band.
He has been invited as a guest artist to teach at the Texas State University in Austin, West Michigan University and Grand Valley State University in the USA. One of his most important performances was in 2017 when Busina Brass performer the European premiere of Eric Ewazen's Shadowcatcher with the Vojvodina Symphony in Novi Sad, Serbia and in 2019 in Bacau, Romania where he performed the same piece with the Mihail Jora State Philharmonic orchestra.
Ivan is also the founder and President of the Croatian Association of Trombone and Tuba players – Busina. He held the position of Music teacher at Private Gymnasium Marul in Zagreb since 2014- 2019. He has been the Artistic director of the Zagreb Brass Festival since its founding in 2009 until 2016.
Since October 2013, he has been invited to perform as Principal trombone with the No Borders Orchestra, an orchestra that features the best musicians from the ex-Yugoslavian states. Since 2014, Ivan is an International Artist-in-Residence with the English Brass Academy founded by the famous trumpet player Paul Archibald, with whom he taught in the UK and Japan. Ivan is the Artistic director of the Summer Music Academy Vodice, Croatia where he teaches with some of the world's finest musicians since 2015. www.musicacademycroatia.com
Since 2016, Ivan is the vice-president of the board of the Croatian Association of Orchestral and Chamber Musicians, one of the highest authorities in classical music in Croatia, where he constantly fights for rights of professional musicians in Croatia.
Instruments
CREATION 421 New York – Trombone Ténor

Retour en Haut