Suche
Obeed Rodríguez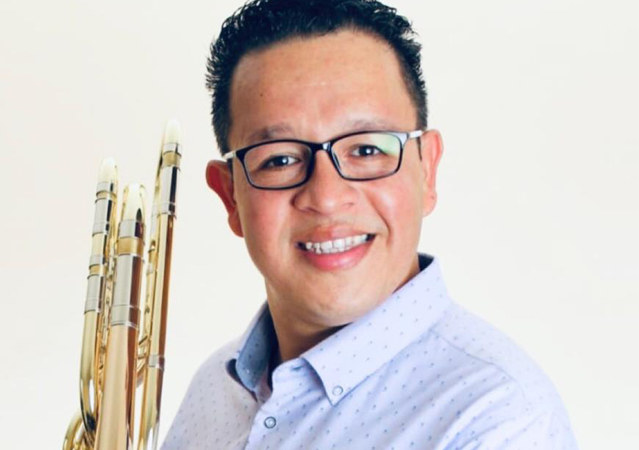 Trombón Bajo de la Orquesta Sinfónica de Chile (OSCH)
He began his musical career with the trombone in 1988, in the "National Network of Youth and Children Orchestras of Venezuela" (Núcleo Juan José Landaeta) in the city of Guanare, under the supervision of the honorable maestro Ángel Miguel Sánchez.
He has participated in master classes taught by Venezuelan and international teachers such as: Eliel Rivero, Duvardo Echarry, Luis García, Iván Sanz, Oscar Mendoza, Domingo Pagliuca, Antoine Duhamel, Larry Borden, Thomas Clamor, Stefan Schulz, Olaf Ott, Michel Becquet, Marc Reese, Ben Van Dijk, among others.
In 1999 he represented Venezuela in the First International Tenor and Bass Trombone Competition, held in France (Prestige des Cuivres), obtaining the title of First Semifinalist.
In 2002 he was a member of the Simón Bolívar Symphony Orchestra (Venezuela), participating in national and international tours, conducted by maestro Gustavo Dudamel, and simultaneously with the Venezuelan Brass Ensemble as Principal Euphonium, led by maestro Thomas Clamor, Trumpeter of the Berlin Philharmonic Orchestra.
He held the position of Soloist Trombone in the Venezuelan Symphony Orchestra (OSV), and Principal Euphonium at the Caracas Martial Band Foundation (BMC), between 2008 and 2016.
He currently performs as Bass Trombone in the Chilean National Symphony Orchestra, and works as a professor in the Masters program of Musical Performance at the University of Chile, and professor of "Low Brass" in the Youth Symphony Orchestra of Liceo Oscar Castro in Rancagua, Chile.
Rodríguez is a Buffet Crampon Artist, using the model AC551BHRA-Creation-New York (Antoine Courtois). He is also a Romera Brass artist, using a mouthpiece model named after him.
Instruments
CREATION 551 New York – Bass Posaune

Retour en Haut