Suche
Mark Hampson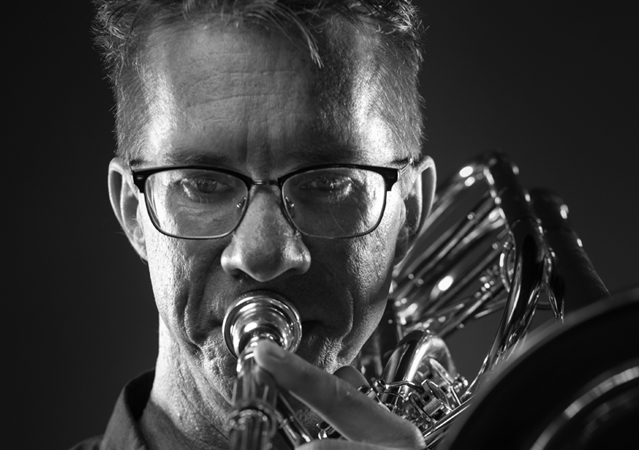 International soloist, teacher & artistic consultant
Mark was born in Bletchley, England in 1971 and started his musical studies aged 6 with the piano. He took up the euphonium when he was 11 and quickly became involved with the brass band movement playing with the most important London brass bands at the time . He took classes at the Guildhall School of Music and Drama junior department with John Clark and started playing the bass trombone here under the guidance of Roger Harvey.
In 1991 Mark started his formal studies at the Guildhall School of Music and Drama in London studying euphonium under John Clark and later bass trombone with Ron Bryans, Eric Crees and Simon Wills. He went on to continue his studies with Hans Rueckert and Andreas Kraft when he moved to Mannheim in Germany.
Mark was a member of the Gustav Mahler Youth Orchestra from 1993 to 1996 where he played under Claudio Abbado, Ricardo Chailly and Sir Neville Marriner receiving coaching here from Denis Wick. He was also a member of the Schleswig Holstein Festival Orchestra during this period.
Professionally Mark worked for two years as a tenor, bass and contrabass trombonist at the National Theatre in Mannheim 1995-1997 and went on to join the Gran Canaria Philharmonic from 1997 where he continues to be a member. He is also a founder member of the Mahler Chamber Orchestra having played their first major Project with Claudio Abbado in Aix en Provence in 1998. He continues to be an active member of this ensemble where he has also been a member of the orchestra board for 9 years with special responsibility for education and outreach. He is also a founder member of the Lucerne Festival Orchestra in its present form having played every year since its establishment under Claudio Abbado in 2003. He is also a founder member of the Suzhou Symphony Orchestra in China where he lived for the season 2016/2017 and was involved in recruitment, management consultancy and playing as leader of the wind section in this orchestra.
Since beginning these Projects Mark has enjoyed a diverse and active career playing in many of the top orchestras in Europe including Bavarian Radio Orchestra, London Philharmonic, Philharmonia, Royal Philharmonic Orchestra,Tonhalle Zuerich, Deutsche Symphony Orchestra Berlin, Deutsche Kammerphilharmonie Bremen ,Bavarian Radio Symphony Orchestra and many others, including many  Spanish ensembles. He has also had the pleasure of performing under many of the world's most famous conductors including, Claudio Abbado, Ricardo Chailly, Lorin Maazel, Pierre Boulez, Kurt Mazur, Daniel Harding, Daniele Gatti, Herbert Blomstedt, Fabio Luisi, Gustavo Dudamel, Bernard Haitink, Andris Nelsons,Gustavo Dudamel to name but a few.
Mark has had an active international teaching career in the last ten years having taught across the globe in such institutions as the Australian National Academy of Music, Griffith University and Sydney Conservatory in Australia, the YST school of music at the National University of Singapore, Beijing Central Conservatory and China Conservatory and Shanghai Conservatory in China, South Africa National Youth Orchestra, Guildhall School of Music and Drama, Royal Academy and Royal Northern College of Music in the UK, Dortmund Orchesterzentrum, and Stuttgart Musikhochschule in Germany, and many establishments in Spain.
He is presently on staff at Essen Folkwang Musikhochschule, Franz Liszt Musikhochschule in Weimar, Superior Conservatory of Music of Aragon in Zaragoza and the Alicante Brass Academy.
He holds positions as artistic consultant at both the Youth Philharmonic of Columbia and the Global Youth Orchestra (China). Furthermore he is a tutor at the Alicante Brass Academy, Superior Conservatory of Aragon in Zaragoza, MpMusic academy in Valencia and Gustav Mahler Academy in Bolzano amongst others.
Mark has also been engaged extensively as an adjudicator and jury member globally having worked with the Corpus trombone competition in Hungary and the Beijing Central Conservatory amongst others.
Whatsmore he is active as a conductor have founded the South Africa National Youth Brass Ensemble and Colombian National Youth Brass Ensemble and regularly directs concerts of brass and wind music at the Gustav Mahler Academy in Bolzano and the Orchesterzentrum in Dortmund.
Mark is also active as a soloist having performed at the Portuguese National Trombone Festival in Braga in July 2018 and the Brazilian National Trombone Festival in Belem in September 2019. He will also undertake a tour of teaching and solo playing in China during the Autumn of 2019.
Instruments
CREATION 551 New York – Bass Posaune

Retour en Haut