Suche
Jorge URANI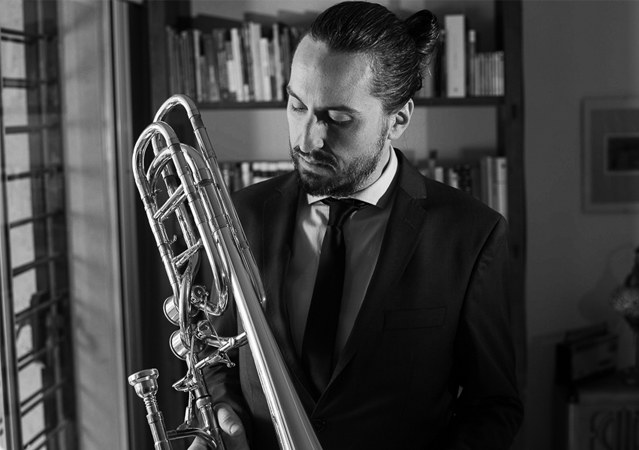 Bass Trombonist with the Cordoba Symphony Orchestra & Trombone Professor for Cordoba Province University
Jorge Urani has been Bass Trombonist with the Cordoba Symphony Orchestra and with the Cordoba Symphony Band since 2000 to date.
His intense teaching work includes a position he has held since 2009, as Trombone Professor for the College Degree on Music and Instruments at Cordoba Province University. He also held the position of Brass Instructor for the Academic Orchestra of the Teatro del Libertador General San Martín from 2009 to 2013.
He has been invited to perform as guest Bass Trombonist and Contrabass Trombonist by the Buenos Aires Philharmonic Orchestra (Teatro Colón), the Mendoza Philharmonic Orchestra, and the Northern University Orchestra of Paraguay. He has been featured as solo player in important concerts for the Cordoba Cathedral and the Teatro del Libertador General San Martín with the Cordoba Symphony Band.
In his work as Bass Trombonist, he is dedicated to promoting and advancing the instrument with frequent performances as soloist player in the Felix T. Garzon Provincial Conservatory of Music, and in the Municipal Theater of Santa Fe Province, within the framework of the renowned Trombonanza international festival. He is part of the Trombonanza teaching staff. The Trombonanza Advanced Trombone and Low-Pitched Instruments Course is the most important in Latin America, currently based in the city of Santa Fe, Argentina (www.trombonanza.com.ar).
He is a member of Viento Sur Trombones, a chamber trombone quartet that gathers top trombonists in Argentina. Its members excel as soloists in different Argentine orchestras. This chamber ensemble frequently performs all over the country, and has premiered the main works in their repertoire, such as Concertino for Trombone Quartet and String Orchestra (Jan Koetsier), A Portrait (Dennis Armitage / George Gershwin), Concerto Grosso (Arcady Dubensky), And the greatest of this is… (Irvin Wagner), in addition to performing world premieres of new commissioned works for trombone quartet and orchestra: Mar y Llano (Gerardo Schiavonne, 2011), and Concierto para Cuarteto de Trombones y Orquesta (Gerardo Gardelin, 2012).
With two published recordings, Del sur y otros aires (2007) and ¿Tango? (2009), this unique ensemble has frequently performed in tours around the United States and has offered concerts and master classes in various American universities in the states of Oklahoma, Texas, Utah, Florida, Pennsylvania, Virginia, New Jersey and New York. They have also participated in the International Trombone Festival (Salt Lake City, Utah 2008/Austin, Texas 2010), the Eastern Trombone Workshop (Fort Meyer, Virginia, 2008), Big 12 Trombone Conference (Lubbock, Texas, 2012), and the Oklahoma Trombone Festival (Norman, Oklahoma, 2012).
Jorge Urani is an exclusive Antoine Courtois artist and plays the AC551BHA-CREATION-New York model.
Instruments
CREATION 551 New York – Bass Posaune

Retour en Haut