Suche
David Arboleda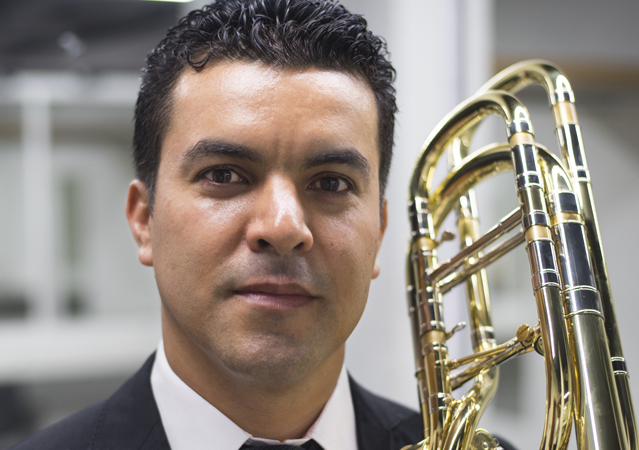 Bass Trombone with the Medellín Philharmonic Orchestra & Professor at the University of Antioquia and Eafit University
Born in Medellin, Colombia, David Arboleda began his music studies at the Network of Schools of Music of Medellin. He made several national and international tours performing with the Youth Symphony Orchestra of the same program.
David received his music degree in trombone performance from the University of Antioquia and his Masters of Music in Bass Trombone performance from the Boston Conservatory in the United States.
He has performed with the Youth Orchestra of America during the Central America Tour 2013, the CAF Orchestra, National Symphony orchestra of Colombia, I Musici de Montréal Chamber Orchestra in the CARTAGENA International Music Festival, Eafit University Symphony Orchestra, University of Antioquia Symphony Orchestra, University of Antioquia Symphonic Band and Simón Bolivar Symphonic Band and Big Band.
He has given master classes at the Conservatoire à rayonnement regional of Paris invited by Jacques Mauger and Alejandro Biot, Antoine Courtois Artists, Adventist University of Medellin Trombone Day, Colombian Trombone Association International Trombone Symposium, Industrial University of Santander's Low Brass Week and University of Antioquia Trombone Symposium.
David participated in the Peru Low Brass Festival, Boston Conservatory Trombone Day, International Trombone Festival 2017 y Latzsch Trombone Festival 2018.
Currently, David Arboleda is trombone professor at the University of Antioquia and Eafit University and Bass Trombone with the Medellin Philharmonic Orchestra.
He plays on Antoine Courtois Bass Trombone AC551BHA-CREATION-New York.
Instruments
CREATION 551 New York – Bass Posaune

Retour en Haut