Recherche
Nicole ABISSI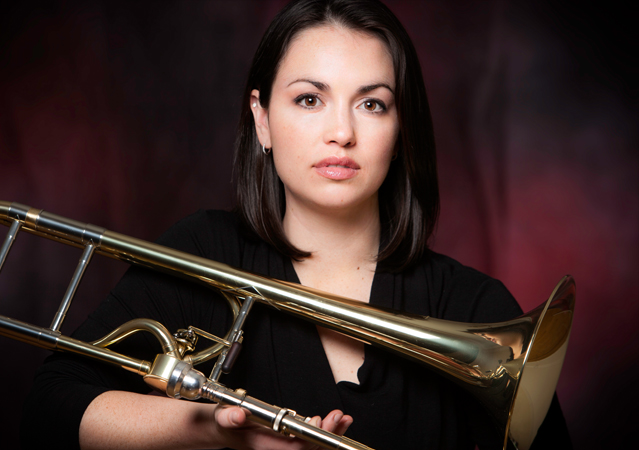 Stiletto Brass Quintet / Trombone
Nicole Abissi is a professional trombonist and teacher living in New York City. She is a member of the nationally touring Stiletto Brass Quintet and performs on Broadway and with professional orchestras around the world.
Nicole received her Bachelor of Music degree from The Juilliard School under the instruction of Joseph Alessi, Principal Trombonist of the New York Philharmonic. She received her Master of Music Degree from Stony Brook University under the instruction of Michael Powell, Principal Trombonist of the Orchestra of St. Luke's and member of the world renowned American Brass Quintet.
In September of 2007, she began the first of two seasons as a fellow the New World Symphony. While there, she had the opportunity to work with one of the premier conductors of our time, Michael Tilson Thomas. Nicole won her first professional position as the Second Trombonist of the Alabama Symphony for the 2009-2012 seasons.
In September of 2012 she joined the Colorado Symphony as the acting Principal trombonist for the 2012-2013 season. In the same year, she also filled in as acting Principal Trombone in the Macon Symphony under the direction of Ward Stare. Nicole has also had the pleasure of performing with the Atlanta Symphony Orchestra, National Symphony Orchestra, St. Louis Symphony, Qatar Philharmonic Orchestra, and Huntsville Symphony Orchestra.
In addition to her performance experience, Nicole is a passionate teacher. She has given clinics at many fine universities as well as music festivals, such as, Georgia State University, University of Alabama, Interlochen Arts Camp, Southeast Trombone Symposium, University of Kentucky, Jackson State University, and Youngstown State University. Her students have gone on to study trombone performance at such schools as Northwestern University, New England Conservatory and Lynn University.
Instruments
Legend 420

Retour en Haut