Recherche
Nathan Siler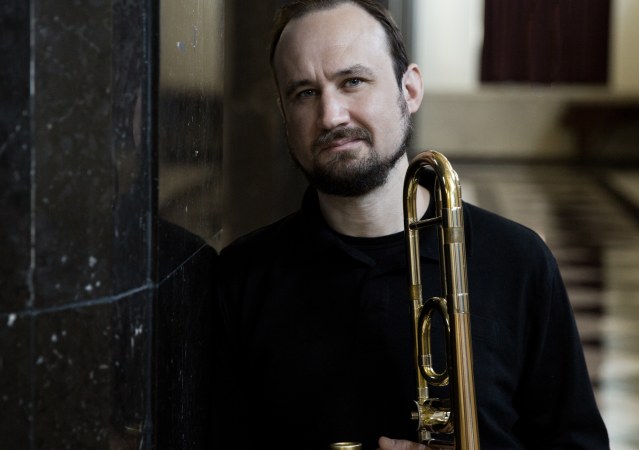 Professor of Trombone - Eastern Kentucky University
Trombonist Nathan Siler enjoys a rich and varied career as both an educator and performer. He currently serves as Assistant Professor of Trombone at Eastern Kentucky University, where he directs the EKU Trombone Society, the EKU Brass Choir and coaches chamber music. He previously served on the faculty of Bellarmine University.
Dr. Siler has enjoyed a long career in the orchestral realm. Since 2011, he has performed as the principal trombonist with the Cincinnati Ballet Orchestra. He has also been a member of the Charlotte Symphony Orchestra, served as principal trombonist of the Orquestra de la SEC in Xalapa, Veracruz, Mexico and acted as auxiliary second trombonist with the Louisville Orchestra for the 2012-13 season. He has also recently performed as the principal guest trombonist with the San Diego Symphony and Knoxville Symphony Orchestra. Other performance credits include the Cleveland Orchestra, Baltimore Symphony, North Carolina Symphony, Tucson Symphony, Dayton Philharmonic, Orchestra Nova (San Diego), Evansville Philharmonic and the Aspen Festival Orchestra. He has also performed with Nico Muhly, Sufjan Stevens, Bryce Dessner, Wayne Shorter, Brad Mehldau and the American Brass Quintet, as well as Randy Newman and Jerry Goldsmith in Hollywood, among many others.
As a soloist, Dr. Siler has performed at the Eastern Trombone Workshop, University of Kentucky, University of Louisville, Belmont Abbey College, Campbellsville University and the Kentucky Music Educators Association Conference. He has also conducted trombone choir programs at West Virginia University, the Gabrieli Festival at Cedarville University, the Ohio Music Educators Association Conference and the Eastern Trombone Workshop.
Also active as a chamber musician, he is the founding member of the Elysian Trombone Consort, a trombone quartet dedicated to new music for this type of ensemble. The quartet has been featured at the International Trombone Festival, American Trombone Workshop, University of Louisville New Music Festival and has appeared in recital at the College Music Society National Convention. They have also performed at the University of Southern California, Peabody Conservatory, Kentucky State University, Wright State University, Eastern Kentucky University, Mesa College (San Diego), Bellarmine University and the University of Cincinnati, College-Conservatory of Music (CCM). Upon hearing a recording of his Trombone Quartet, composer Walter Ross declared: "WOW! What a super performance! I have never heard that piece done so well…with such energy, precision and spirit!" The quartet has just finished recording their first commercial CD, to be released soon. As a member of the Ilium Brass Quintet, he received a fellowship to the Aspen Music Festival, where he studied chamber music and performed with the American Brass Quintet.
Dr. Siler has been active commissioning new works as both trombonist and conductor, premiering over 30 new works to date. In February 2011, the Elysian Trombone Consort premiered the Concerto for Four Trombones and Wind Ensemble by composer John Crouch with the Peabody Wind Ensemble in Baltimore and has since performed the concerto with the CCM Wind Ensemble. He has also worked closely with composers Steve Rouse, Marc Satterwhite, Raymond Horton, David Fetter, Frank Gulino. John Siler, David Faleris, Matthew Vandegriff, Rodney Oakes, Neb Macura, Allen Brings, Don Bowyer, Russell Nadel, Peter Rauch and Meghan Goodner.
He holds the Doctor of Musical Arts degree from the University of Cincinnati, College-Conservatory of Music, two masters degrees (trombone/wind conducting) from the Peabody Institute of the Johns Hopkins University, a Bachelor of Music degree from the Cleveland Institute of Music and the Certificate of Advanced Studies from the University of Southern California. He has also studied at the Aspen Music Festival, Music Academy of the West, International Festival-Institute at Round Top, Philadelphia Institute for Brass Studies at Temple University and Brevard Music Center. His teachers include James DeSano, Thomas Klaber, Terry Cravens, James Olin, and Tim Anderson. He has also been heavily influenced by Steve Witser, Michael Powell and Per Brevig.
Instruments
Legend 440

Retour en Haut