Recherche
Chris JEANS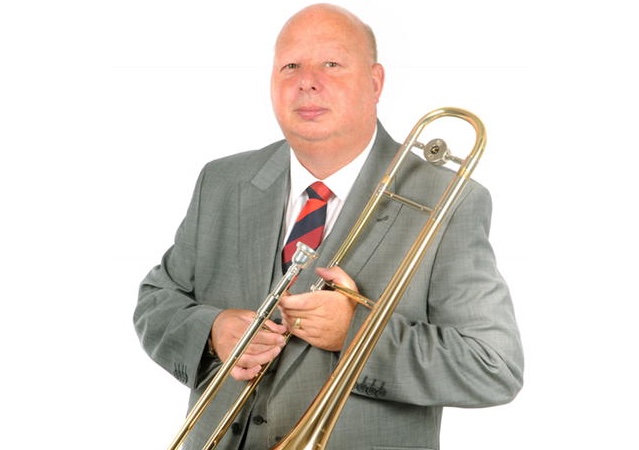 International Trombone Soloist, Clinician & Educator. Ambassador Antoine Courtois
Chris Jeans is regarded as one of the finest trombone players in the World, and is known as 'The Man with the Golden Trombone'. He is currently the principal trombone player of the Virtuosi GUS Band. Chris began his playing career in his home town of Yeovil, before moving on to become principal trombone of Sunlife, Desford Colliery, Rigid Containers, Ransome, Yorkshire Building Society, Grimethorpe Colliery and John Foster & Sons Ltd Black Dyke Mills Band.
He has held the title of Champion Trombone Player of Great Britain and won the title 'Brass in Concert Solo Champion' on two occasions. Chris has won the National Champion Band of Great Britain on seven occasions, European Championships on three occasions, Champion of Champions, International Masters, French Open, British Open Championships three times, plus hat-tricks on BBC Best of Brass and the Granada TV Band of the Year competitions, to name just a few. As a soloist, Chris has featured on television, radio and even been written about in the national press. He has toured extensively across the World, playing in many prestigious concert halls, and appearing alongside many high profile artists such as Tony Bennett, Christian Lindberg, Evelyn Glennie, Lesley Garrett and the London Symphony Orchestra.
As a soloist, Chris has performed in venues such as the Carnegie Hall in New York, and the Royal Albert Hall in London, and must be the only soloist to perform at 35,000 feet in the air! Chris was the first ever brass band trombonist to produce his own solo album, his latest on the World of Brass Label 'Blue Jeans', and he has books bearing his name with EMI and Kirklees Music. Chris has been an endorsee, soloist and clinician for Antoine Courtois and Besson Instruments – now part of the Buffet Group Worldwide, a position that he has held with pride for over 35 years. As an educator, Chris is the Brass Co-ordinator at Leicester Grammar School, a position that he has held for over 27 years. He is the trombone tutor and member of staff for the National Youth Brass Band of Great Britain. As an adjudicator Chris is regularly invited to adjudicate at the Sion Music Festival in Switzerland, Brass in Concert held in the Sage at Gateshead, the French Open Championships and Manx Music Festival in the Isle of Man.
In 2009, Chris was presented with the Brian Hicks Memorial Award for his continued service and outstanding dedication to youth bands in Great Britain. In 2010 he formed his own jazz band – Chris Jeans and his 'Crazy Love Band'. In 2013 Chris was awarded the 'All England Masters International Dedicated Service Award' and in the same year he was also awarded from the Worshipful Company of Musicians 'The Mortimer Medal', and made a 'Freeman of the City of London'. In 2014, Chris was nominated for Classic FM Music Teacher of the Year, and to also have the BBC to announce Chris, as "A National Treasure" was the icing on the cake!! In 2015 & 2016 he was award the 'Maxwell Thornton Trombone Award' for the Best Trombone Player at the All England International Masters and slso in 2016 Chris was awarded the title Butlins Mineworkers Outstanding Soloist.
For the past 27 years, he has also been the Artistic Director of Music at Youth Brass 2000, who are the current British Open Youth Champions, National Youth Entertainment Champions of Great Britain, Championship Section National Youth Champion Band of Great Britain, Butlins Youth Champions, BBC Radio 2 Youth Band of the Year and Runner- Up European Youth Brass Band. The band has won many major awards and has performed numerous times at the School Proms, held at the Royal Albert Hall in London, and tours Worldwide.
"Chris is a true legend of brass banding as a player, conductor, mentor and educator. His work with Youth Brass 2000 is nothing short of astonishing and to see the players Chris has taught, shaped and inspired really says it all." (Philip Biggs)
Chris Jeans performs and records on Antoine Courtois Trombones.
Instruments
Legend 420

Legend 440

Retour en Haut