Search
François Bogaert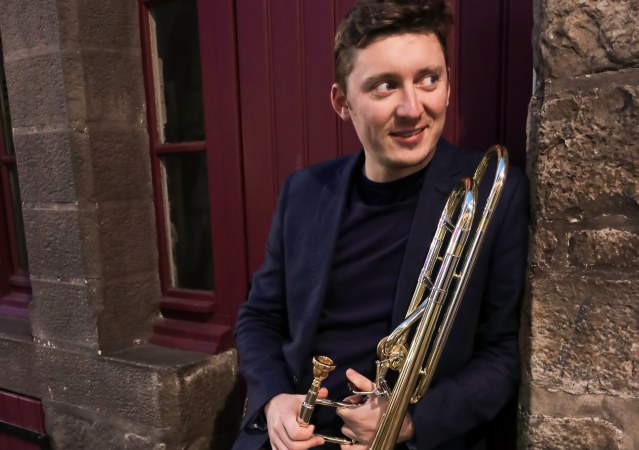 International Soloist
Born in the North of France, Francois began studying music under the watchful eye of his grandmother and his dad in Calonne Ricouart Music School. He naturally chose the trombone and quickly joined the CRR of Lille in the Christian Bogaert's class. Alongside his trombone studies, Francois learns the percussion, the doublebass and the piano. He will also try to conducting lessons and analyzing in the CRR of Douai with Pierre Vigneron.
This is at the position of Trombone Solo that Francois participates in National and European Brass Band Championships with the Brass Band Nord Pas de Calais since 2010. In 2016 Francois is selected for the Prestigious Soloist Contest of European BrassBand Association in Lille.
Very involved in the winds bands orchestras, François is solo trombone of Coups de Vents Wind Orchestra – (space research and creation for wind music) since 2014.
François is increasingly solicited for his talent as an arranger. In addition to his already extensive catalog, he regularly works with numerous ensembles such as Coups de Vents Wind Orchestra, the Instrumental Ensemble of the CNSMD of Lyon, Michel Becquet and Trombone Sphère, BBNPDC, Lille Trombone Festival, Wind Orchestra Souffleseim, The Five Brass Quintet, Academy of Brass and Percussions Surgeres, HMCR, Qu4tre à 4 Trombone Quartet, Saxhornia Saxhorn Quartet, Dibies Orchestra, Open'sax, Adb al Malik, Linselles Wind Orchestra, Jérémie Levi Samson, the Orchestretto …
It is thanks to Coups de Vents Wind Orchestra and Philippe Langlet Francois orchestrated music of Abd Al Malik for a concert at the Châtelet theater in Paris in 2014.
His next scores will be played by the Atlanta Trombone Ensemble and the Philharmonic Brass in New York.
François is also a member of the teaching team and arranger for the largest European Trombone Festival, Lille Trombone Festival since 2011.
After a gold medal at the CRR of Lille and CRR of Boulogne-Billancourt, François was admitted to Conservatoire National Supérieur Musique in Paris in the class of Giles Millière, but it's finally at Conservatoire National Supérieur Musique in Lyon Francois continued his musical studies with Michel Becquet. After a Bachelor in 2013, François obtained his Master Degree in June 2015 with the dissertation topic: "Silly Symphonies of Walt Disney." He also gets many honors in the Orchestration Class of Luca Antignani and Scoring of Movies of Gilles Alonzo at the Conservatoire National Supérieur Musique in Lyon.
He is occasionally musician with Orchestre National de Lille, Orchestre National de Lyon, Orchestre de l'Opera de Lyon, Orchestre de Douai, l'Ensemble Instrumental de l'Ariege, Orchestra de l'Opera de St-Etienne, Socal Brass Consortium de Los Angeles, Downey Symphony and Beverly Hills Symphony.
François will make his debut at the Walt Disney Concert Hall, prestigious home of Los Angeles Philharmonic, with the USC Thornton Symphony in 2017. He works in the music industry as well in Los Angeles area as in France and in China.
François is currently a student at the prestigious University USC Thornton School of Music in Los Angeles to perfect the orchestral music profession.
Instruments
Legend 420

Retour en Haut