Search
Carlos Freitas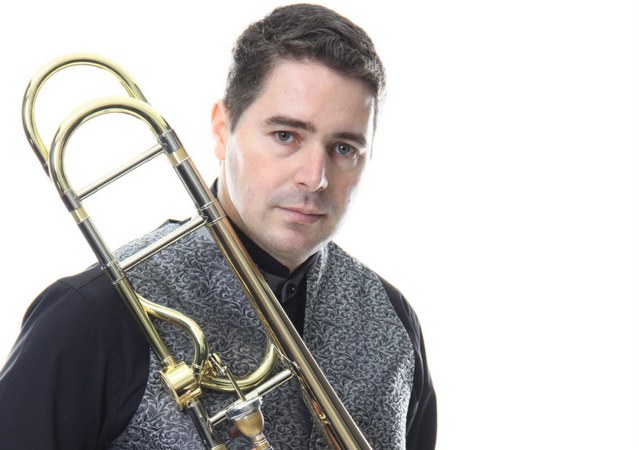 Trombone Solo at Bachiana SESI SP Philharmonic Orchestra. Professor of Trombone at the School of Music of the São Paulo State - EMESP
Bachelor trombone for college Mozarteum in São Paulo, began his musical studies at age 15 with Professor Marcos Sadao Shirakawa at the Free University of Music of São Paulo in 1994.
In 1995, he joined the Young Symphonic Band of the State of São Paulo and in 1997 joined the Experimental Repertoire Orchestra, which the following year 1998, he won the Young Soloists Competition in the same orchestra performing as a soloist at the Teatro Municipal de São Paulo. From 1998 to 2000 he worked as trombonist Sinfoni a Cultura Orchestra – Orchestra of Radio and Television Culture of São Paulo. In 2000, he became solo trombone of the National Symphony Orchestra of Chile, and in 2001 he returned to Brazil and joined as a trombone solo Sinfonia Cultura Orchestra from 2001 to 2003, and the Philharmonic Orchestra of Sao Bernardo do Campo from 2001 to 2009. In 2002, he won by unanimous decision of the jury of "V Premio Weril for Brass Instruments" and in July 2003 joined as a trombone solo Symphony Orchestra of the University of São Paulo, and as Professor of Trombone at the Free University Music of São Paulo State. In 2009, he joined the Group of Contemporary Chamber of Emesp – "Camerata Aberta" with Guilloume Bourgone as a conductor.
Soloist already served as the head of several orchestras as: Usp Symphony Orchestra, Young Symphonic Band of the State of São Paulo, Experimental Repertoire Orchestra, Symphony Orchestra of the University of Santiago – Chile, Symphony Orchestra of La Serena – Chile between other. With Chamber music duo performs with Trombone and Piano and Brass Quintet "Via Brazil" since its formation in 1998. As Teacher, taught in the first two editions of the Festival of balls Bragança Paulista – SP – 2007 and 2008, in addition to perform various work shops in Chile, La Serena, Coquimbo and Santiago. In January 2011, he was invite as a teacher at the 1st International Festival of Trombones La Serena – Chile, and in July of the same year, served as guest musician contemporary group resident of 42 Winter Festival of Campos do Jordao – SP.
With the Camerata Aberta in 2011 recorded the CD "Espelhos D'agua" by SESC, which was awarded the Premio Bravo and the São Paulo Association of Art Critics (APCA) as the best group of Chamber contemporary music Group of 2012. Carlos Freitas has been dedicated to the dissemination of the repertoire for trombone solo, with performances of works of great composers of the International scenario as Luciano Berio, Xenakis, Folke Rabe among others, besides renowned Brazilian composers as Paulo Zuben, Sergio Kafejian, Flo Menezes, Rodrigo Lima, Marcilio Onofre besides accomplishing projects for estimulate Brazilian composers to write new works for trombone.
Carlos Freitas is founder of Project BONE Brazil, a project that has as main goal, to spread and acquire knowledge about the trombone, conducting meetings and national and international festivals trombone. In September 2012 made the world premiere of Work "Circulares" for trombone and electronic real-time Brazilian composer Sergio Kafejian, the IX International Biennial of Sao Paulo Electroacoustic music.
Since 2013, Carlos Freitas is exclusive artist Antoine Courtois Paris.
Instruments
Legend 420

Retour en Haut